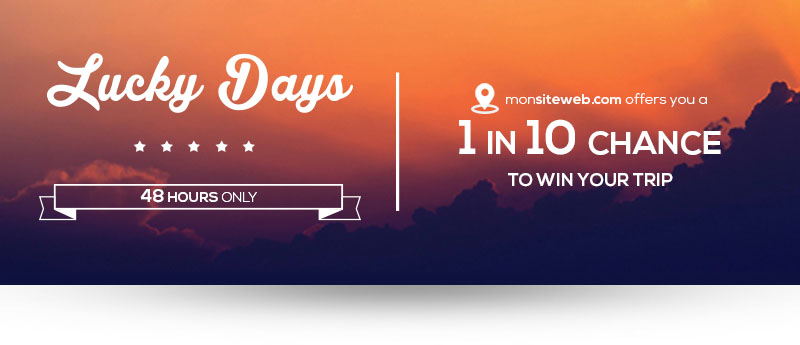 The latest winners:
| | |
| --- | --- |
| Franck G. | 150,00 € |
| Thomas D. | 4 850,20 € |
| Morgane I. | 50,00 € |
| Jeanne B. | 820,10 € |
| Olivier C. | 150,00 € |
| Laurent G. | 4 850,20 € |
| Nicolas M. | 150,00 € |
| Raphaël T. | 4 850,20 € |
| Franck G. | 50,00 € |
HOW CAN YOU WIN YOUR STAY FOR FREE ?

IT'S EASY !
1. CHOOSE

Your products on our site.

2. PAY

Using the payment method of your choice.

3. PLAY

Right away once you've finalized your purchase !

4. WIN

The value of your order in cash.
DEMO GAME
You will only be able to access the live game once you've confirmed your order.
Here is an example of the contest you can enter once you have completed your purchase, provided your purchase is eligible under the rules.
Try
Maintenant, tentez votre chance pour gagner votre panier !
FAQ
Q : What are the conditions for participation?
A : You must place an order on our website and pay your purchase with the payment method of your choice.

Q : There wasn't any game displayed on my order confirmation page: how can I play?
A : If you did not see any game displayed on your purchase confirmation page and if you meet all participation conditions requirements (previous question), you will receive an email with a link giving you access to the game.

Q : Do I have a real chance of winning?
A : Absolutely! Our game is based on an algorithm with randomized and independent draws. For each placed order, you have an equal 1 in 10 chance to win the refund of your purchase, and this is not related to other players/winners or to your cart amount.

Q : I've won! How can I claim my prize?
A : Congratulations! You will receive an email inviting you to fill out your bank details on a dedicated/fully secured page. You have X days after your purchase to provide this information. Your payment will then be made in the X days folliwing your order.


Conditions for participation

This game is available for any order placed between "start date" and "end date" (view our contest rules for the 1 in 10 chance to win the refund of your order game on "site name").